Wood packaging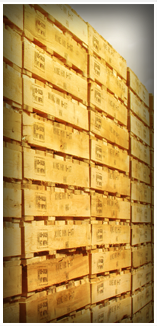 materials (WPM) are defined as shipping units constructed completely or partially of solid wood materials such as pallets, skids, boxes, crates, reels, etc., in addition to individual pieces utilized for blocking, bracing, and dunnage for securing the shipment while in transport.
In order for WPM to be ISPM-15 compliant under the heat treat program, WPM may be produced by one of two methods:
1. The WPM producer may purchase previously ALSC accredited agency HT grade marked lumber, and cut components from the HT labeled lumber for use in construction of the WPM. The resultant WPM product is then eligible to be labeled with an ALSC Accredited Agency Quality Mark to show the WPM is compliant with ISPM-15.
 2. The WPM producer may construct WPM from lumber that is not heat treated, place the product in a heat chamber and heat treat the WPM product to achieve the minimum wood core temperature of 56 degrees C for a minimum of 30 minutes. The product then must be labeled with one of the ALSC Accredited Agency Quality Marks to show the heat treated WPM is compliant with ISPM-15.